GETTING STARTED WITH INFINITE SKIES
Infinite Skies is an app with one primary goal: to replace your sky with a perfect high resolution sky from our collection of photos and videos. What makes Infinite Skies unique is the inclusion of time-lapse sky videos which provide almost unlimited skies to choose from. Pick a sky that matches your scene, then move the sky with the big slider to find the perfect video frame. Our skies videos are high resolution, and the sky photos are even higher for the highest quality output.

Here is an overview the main controls.

| | |
| --- | --- |
| LOAD PHOTO | Open a new photo or load a previous project. |
| MASK TOOL | Infinite Skies will automatically create a sky mask for you. Use this tool to fine-tune the mask. |
| SAVE PHOTO | Save your finished photo, or export a time-lapse video with a moving sky. |
| TIMELAPSE CONTROL | For the time-lapse skies, this scrubs through the video so you can find the perfect frame. |
| SKY SELECTION | Choose from a huge selection of skies. An arrow indicates a time-lapse sky video. |
LOAD PHOTO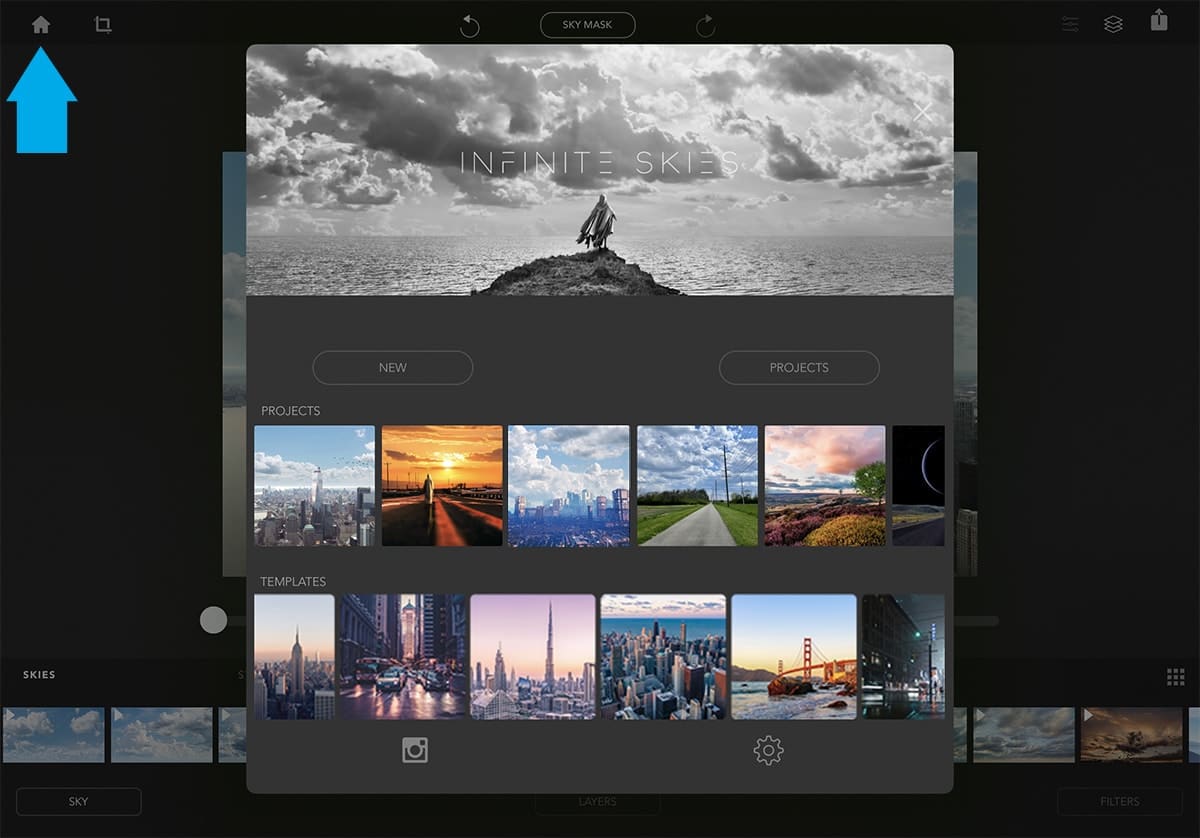 This is the home screen. From here, you can open a new photo, open a previous project you have worked on, or load a template. Infinite Skies is at its core a photo-editing app and doesn't have the option to import video.

| | |
| --- | --- |
| NEW | Open a new photo. |
| PROJECTS | Access your saved projects. |
| TEMPLATES | Choose from a selection of free photos to get inspired. |
MASK TOOL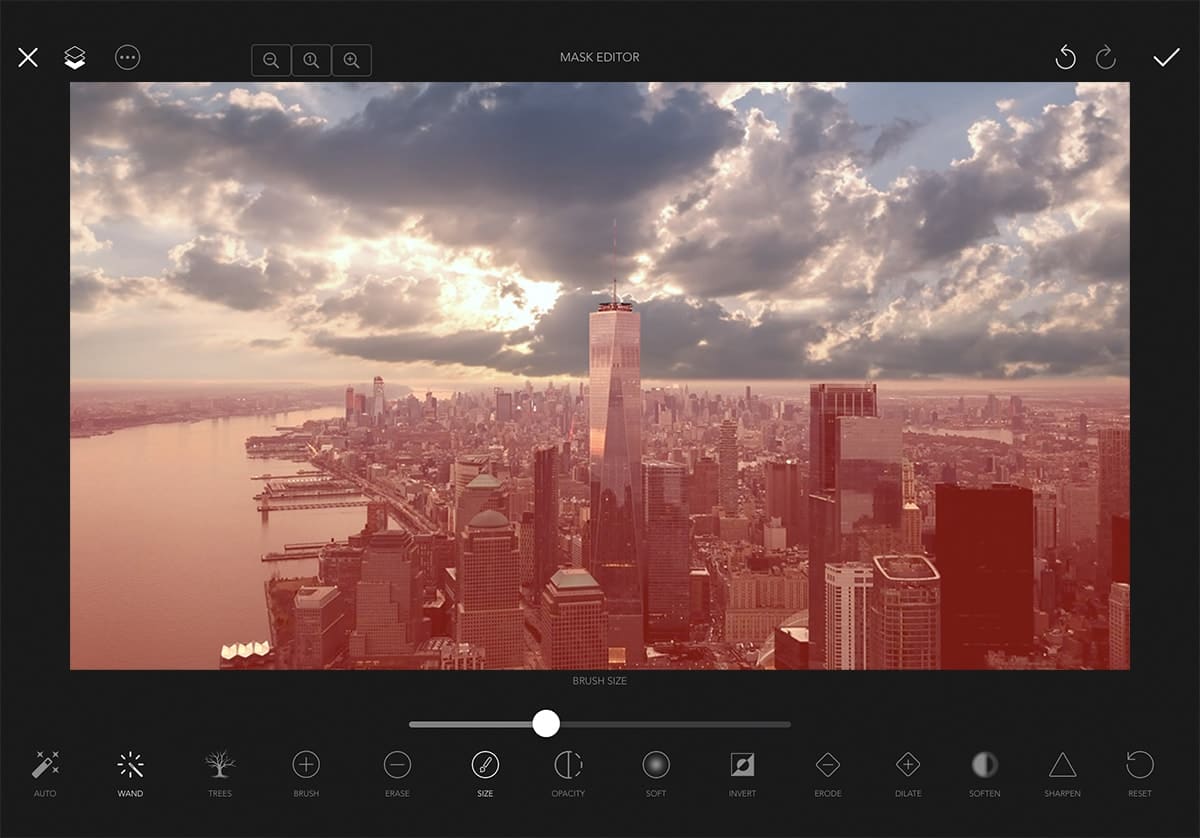 The first step in replacing the sky in your photo is identifying where the sky is. To do this, Infinite Skies creates a mask that represents the sky pixels. This happens automatically when loading a new photo using our BrainFeverAI machine learning engine. Now that you have a sky mask, Infinite Skies provides a powerful set of tools to further refine and perfect this sky mask. With the mask tools, you are selecting the ground, i.e. non-sky pixels.

| | |
| --- | --- |
| AUTO | Automatically detect sky pixels using the BrainFeverAI. |
| WAND | Smart brush that will select similar regions of pixels. |
| TREES | Detail brush to auto-select trees and powerlines. Uses image luminance to identify sky pixels. |
| BRUSH | Brush to select land areas, i.e. non-sky pixels. |
| ERASE | Brush to erase land areas. |
| SIZE | Set brush size. |
| OPACITY | Intensity of the Brush or Erase tool. |
| SOFT | Set the edge softness of the Brush or Erase tool. |
| INVERT | Invert the mask. Useful when you want to select the sky with the wand, then invert. |
| ERODE | Remove edge pixels of mask, great for tightening the edges |
| DILATE | Increase the edge of the mask by a few pixels. |
| SOFTEN | Feather the edge of the mask. |
| SHARPEN | Sharpen mask edge, increasing contrast at the edge. |
| RESET | Clear the mask and start over. |
MASK TIPS
TREES - When using the tree brush, brush right over the tree areas that overlap the sky. You're not trying to select individual branches, just the whole area of the tree. The mask uses a luminance algorithm to automatically detect sky pixels. Works great on other fine details such as powerlines and telephone poles.
AUTO MASK - After running the BrainFeverAI to auto-detect the mask, sometimes the edge can be a bit jagged. To improve this, try these steps:
1 - Soften (tap several times)
2 - Sharpen (again, several times if needed)
3 - Erode (shifting mask to a perfect edge alignment)
This should smooth the edges, while still keeping them sharp for a good separation.
---
SAVE PHOTO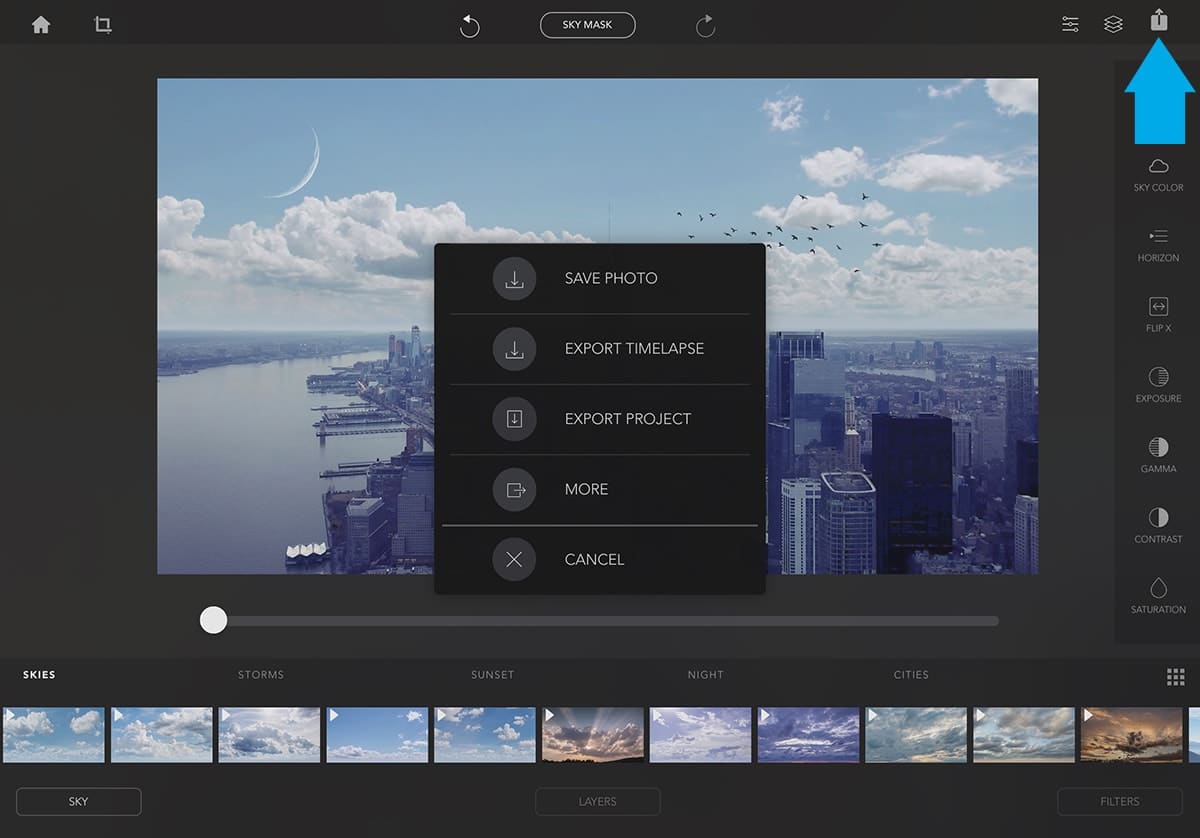 Once you have created a masterpiece, you'll want to save your image! Tap the top-right icon to open the save panel. From here you can save the photo, or even save a 6 second time-lapse video if you are using a time-lapse sky.
Infinite Skies will automatically save your project in the background as soon as you open a photo and make changes. No need to worry about that. Still, you have the option to export the project file if you want to back it up, or share with another user. From the Save panel, you have several options to save your photo.
| | |
| --- | --- |
| SAVE PHOTO | Save your current edit as a flattened photo. |
| EXPORT TIMELAPSE* | Save a 5 second video with the time-lapse sky moving on your image. |
| EXPORT PROJECT | This will save a project file with all of your edits. |
| MORE | Display the share sheet for saving a photo, sharing, airdrop, etc. |
| CANCEL | Close the panel without saving. |
* Only skies with video will show this option. Timelapse skies are indicated by a small arrow on the icon.
---
EXPORT TIMELAPSE VIDEO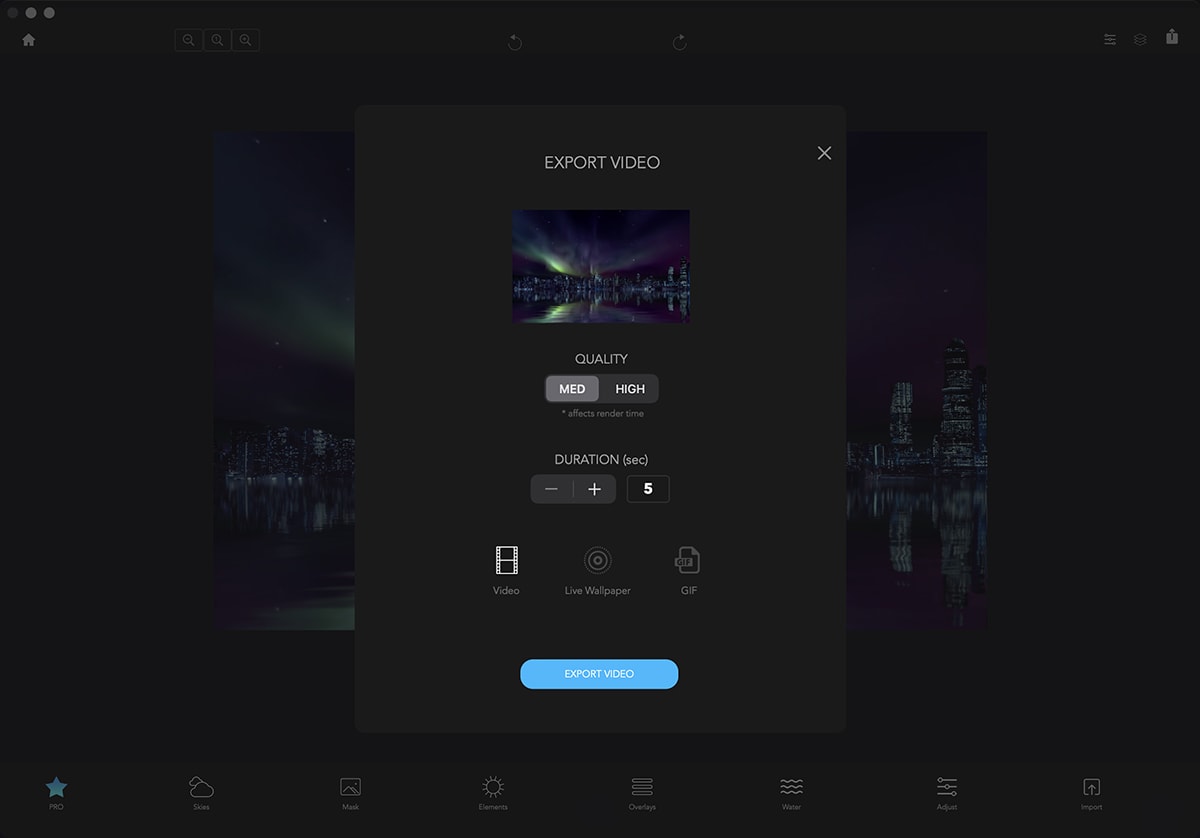 The real magic of Infinite Skies is adding time-lapse skies to your photos. You'll be amazed once you see this!
When you choose "Export Timelapse Video", you'll be presented with a list of options to customize your video. You can simply choose Export Video with the default settings for a perfect 5 second video. The options let you further refine the video by adding looping (Repetitions), reversing the video, etc.
A frame rate of 10-15fps delivers a slow moving sky for a classic time-lapse look. Higher frame rates will be faster for a crazy apocalyptic look.
Frame count increases how many frames are rendered from the original sky video. A higher number of frames will look smoother but take longer to render. Frame count refers to rendering one repetition. For example, setting frame count to 100 with 4 repetitions will export a video with 400 frames total.
Video duration is determined by this formula: (Frame Count * Repetitions) / Frame Rate
| | |
| --- | --- |
| REPETITIONS | Number of times the video loops. A setting of 1 means no loop. |
| DIRECTION | Render the video forwards or backwards. Turn a sunset into a sunrise! |
| BOOMERANG | Loop the video, reversing direction on 2nd loop. |
| FRAME RATE | Playback speed of video. |
| FRAME COUNT | Number of frames rendered for one repetition. *Increases render time! |
| VIDEO | Export video with MP4 (H264) format. |
| LIVE WALLPAPER | Live Photo that can be used as a wallpaper on the iPhone. |
| GIF | Creates an animated GIF that is 5 seconds long. |
* Only skies with video will show this option. Timelapse skies are indicated by a small arrow on the icon.
---
LAYERS

Show the layers by tapping the Layers icon.
In the Layers panel, you edit each layer's properties, such as blend mode and visible. You can also drag to re-order the layers, with the top layer being on top of your photo. When working with several layers, it's a good idea to Lock layers that you're not working on to prevent them from being moved accidentally. p.s. Can you find the astronaut?
---
PROJECTS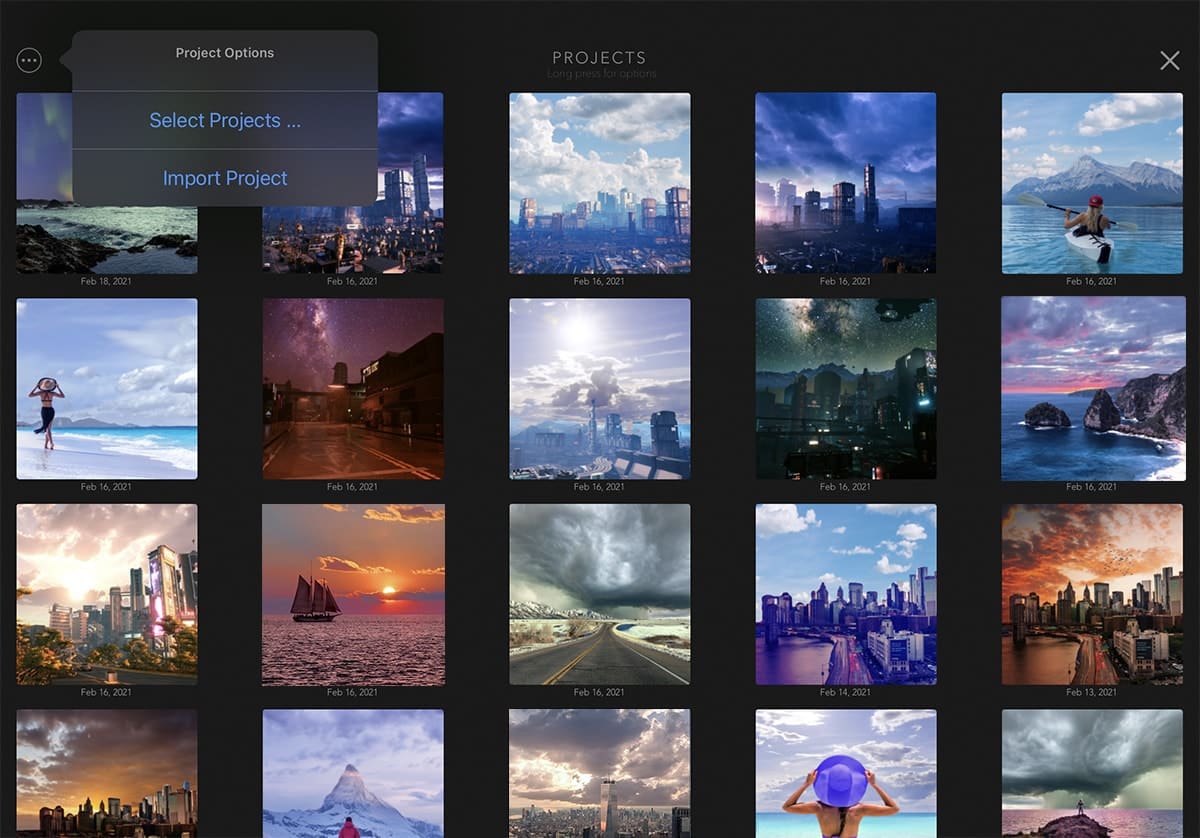 You can get to the Projects view from the Home screen.
The Projects view lists all of your projects. Note, whenever you open a new photo, a project is automatically created for you. This ensures that you never lose any edits when closing the app.
On iOS, long-press a project to to see options such as open, duplicate, export, or delete.
On Mac, right-click a project to to see options such as open, duplicate, export, or delete.
Tap the top-left icon to select multiple projects, or import a project that was saved with Project Export.
---
SETTINGS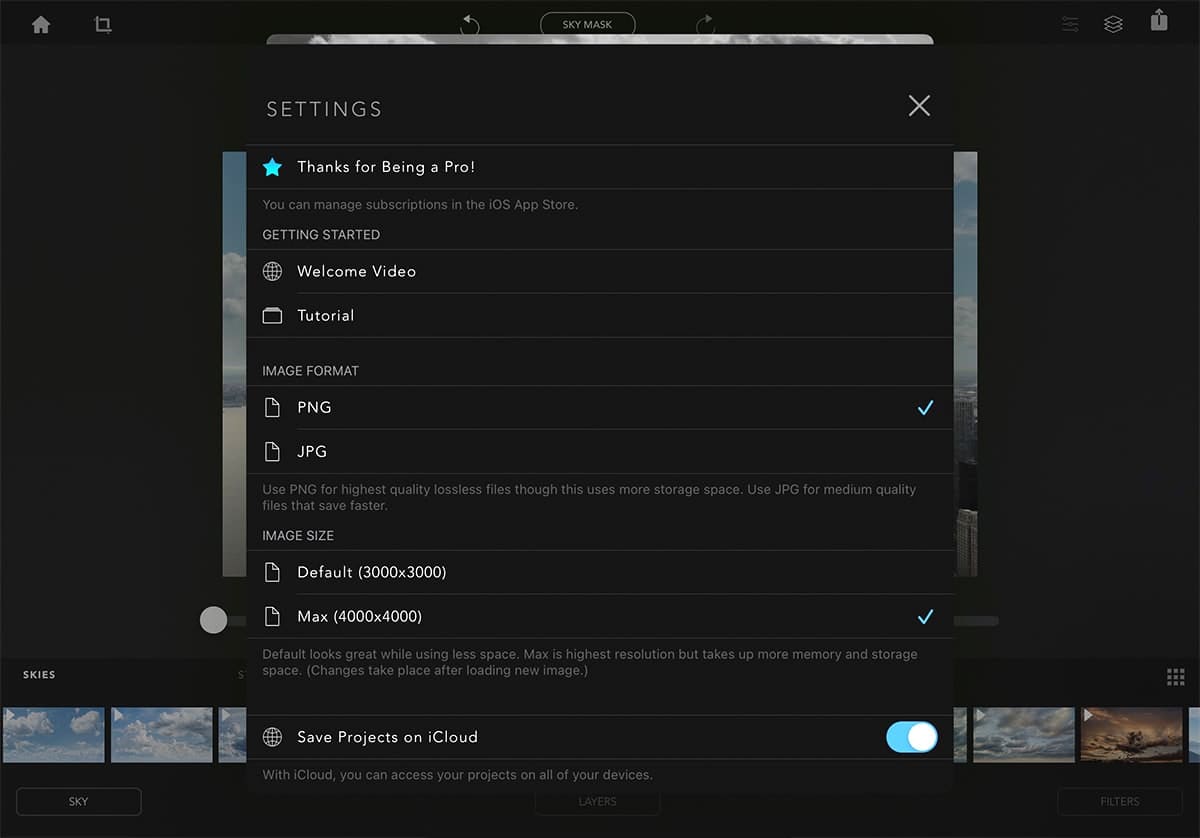 You can get to the Settings view from the Home screen by tapping the gears icon.
The Settings view lets you set the various app settings and related links.
TECH SPECS
Infinite Skies is a Universal app that can run on both iOS and Macs using the latest Catalyst technology. This requires a minimum macOS of Catalina.
Minimum requirements
| | |
| --- | --- |
| iOS | iOS 12 |
| Mac | macOS Catalina 10.15 |
Output Size Support
| | |
| --- | --- |
| Photo | Up to 4000x4000 pixels |
| Video Export Size | Height of 1280 pixels for newer devices - 800 pixels for older devices with less RAM. |